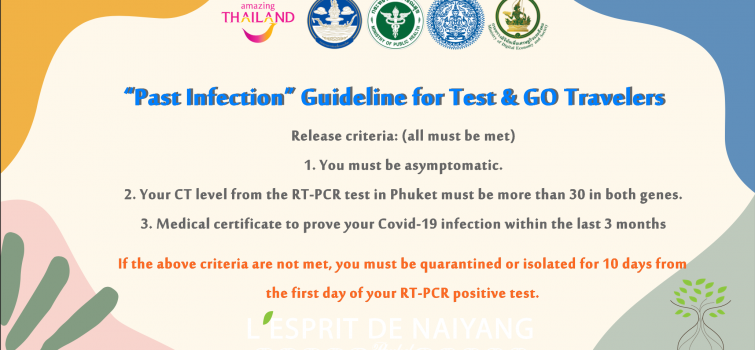 Updated on 3 February 2022
Phuket Provincial Public Health Office would like to announce the
"Past Infection" Guideline for Sandbox Travelers
'Sandbox' Travelers who test positive for Covid-19 in Phuket but were infected before
arriving into Thailand can be considered for 'no quarantine' or 'isolation'.
Release criteria: (all must be met)
1. You must be asymptomatic.
2. Your CT level from the RT-PCR test in Phuket must be more than 30 in both genes.

3. Medical certificate to prove your Covid-19 infection within the last 3 months
If the above criteria are not met, you must be quarantined or isolated for 10 days from
the first day of your RT-PCR positive test.
How?
● Submit the medical certificate of past infection to your hotel.
● Submit a lab result in Phuket that shows your 'CT' more than 30.
● The SHA Plus Manager of your hotel must keep records of your documents for
future reference with the Phuket Provincial Health Office.
● If you are able to present the above documents, you will be released.