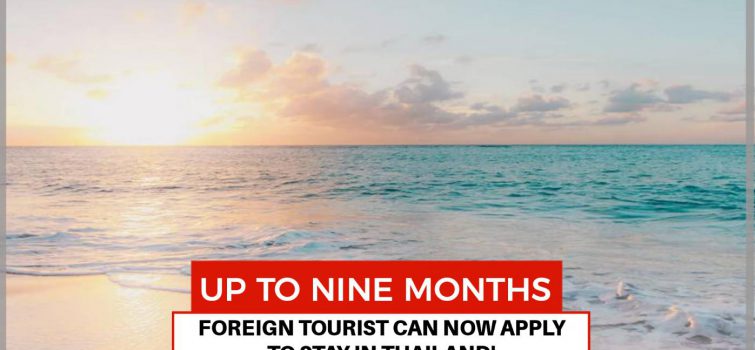 Foreign tourists can now stay in Thailand for up to nine months without the need of travel abroad to have their visas extended, three months on the initial visa with two extensions of three months each.
Thailand's Ministry of Interior says the new rules came into effect on October 1st, and are valid until September 30th next year, in a bid to boost the tourism industry.
Foreign tourists will, however, have to meet certain requirements to qualify as long stayers.
First of all, they must agree to a period of quarantine, as part of the Public Health Ministry's measures to contain the spread of COVID-19, and must show booking receipts from the hotels in which they will isolate.
Then, they must show evidence of payments for their lodgings during their stay in the kingdom, which can be a rented house, a rented condominium room or a title deed of a condominium room.  They are also required to have health insurance, with a minimum of US$ 100,000 cover for COVID-19 treatmentvalid for the entire period of their stay in the country. They must also have health and accident insurance coverage of40,000 baht for out-patient treatment and 400,000 baht for in-patient treatment.
Having met the requirements, tourists will be granted a special tourist visa (STV), which is for single use and will allow them to stay in Thailand for 90 days, which can extended twice by90 days per extension. The visa extension fee is 2,000 baht.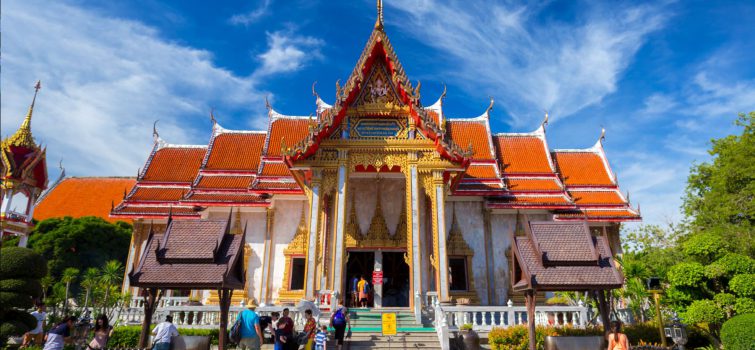 What is Chalong Temple?
Wat Chalong, the largest, most revered and most visited Buddhist temple in Phuket was built at the beginning of the 19th century. Chalong Temple (officially Wat Chaitararam) is one of the Must-See places in Phuket, together with the nearby Big Buddha of Phuket as they are relatively close to each other.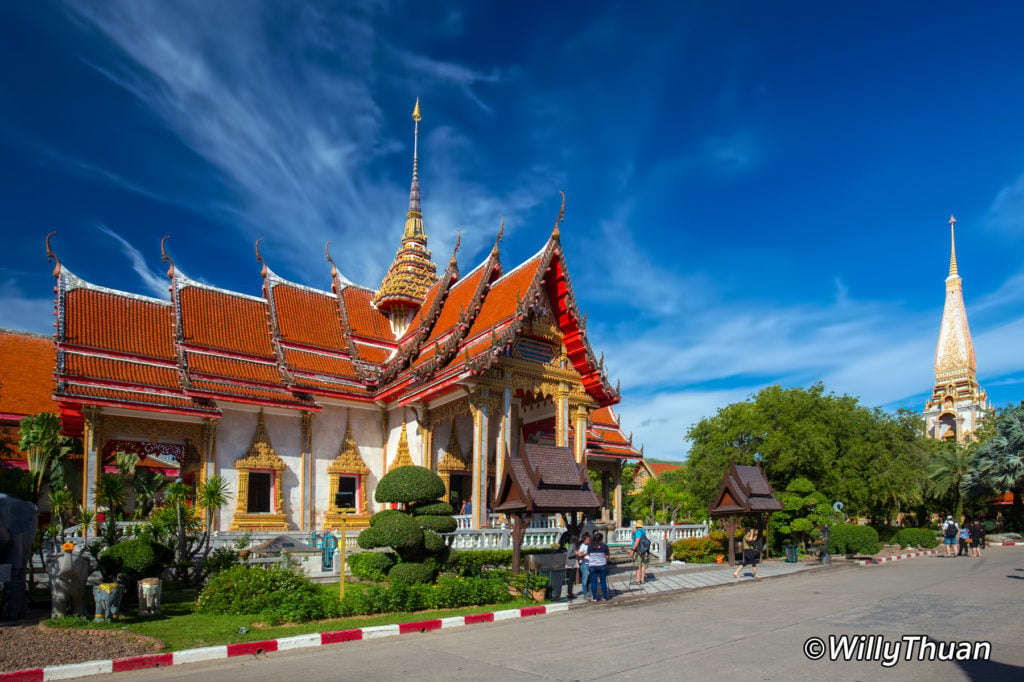 The tallest building on the grounds of Wat Chalong is a 60 meters tall stupa (chedi) sheltering a bone fragment of Lord Buddha. Walls and ceilings of the temple are decorated with beautiful painting retracing the most significant steps of Buddha's life. Each floor is also full of large donated golden statues.
Wat Chalong Chedi is built on three floors so feel free to climb all the way to the top floor terrace to get a beautiful bird view on the entire temple grounds. Few more steps will lead you to a glass display where the fragment of bone can be contemplated. You can see the nearby Phuket Big Buddha from there, but you can see it from almost anywhere in the southern part of Phuket island. The central temple is where most Thai people will make merit by offering lotus flowers and adding a small piece of gold paper to the monk's statues inside.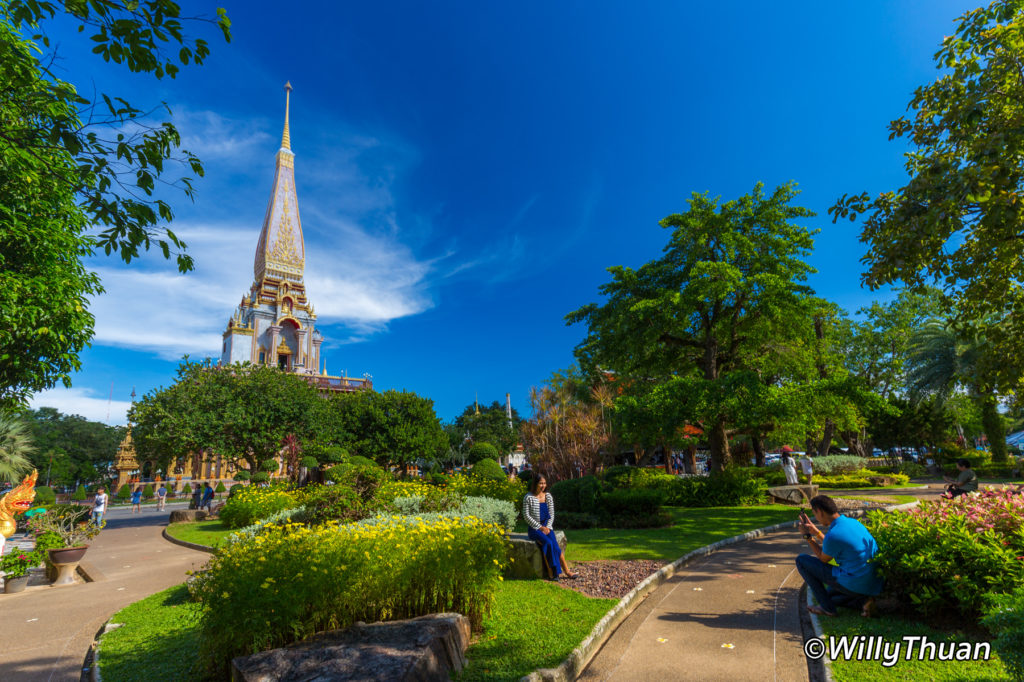 No need to tell you to remove your shoes, you already know that, and the sea of shoes in front of the temple will remind you anyway. In theory, you should wear long pants and no sleeveless shirts, but this requirement seems to belong to a past era.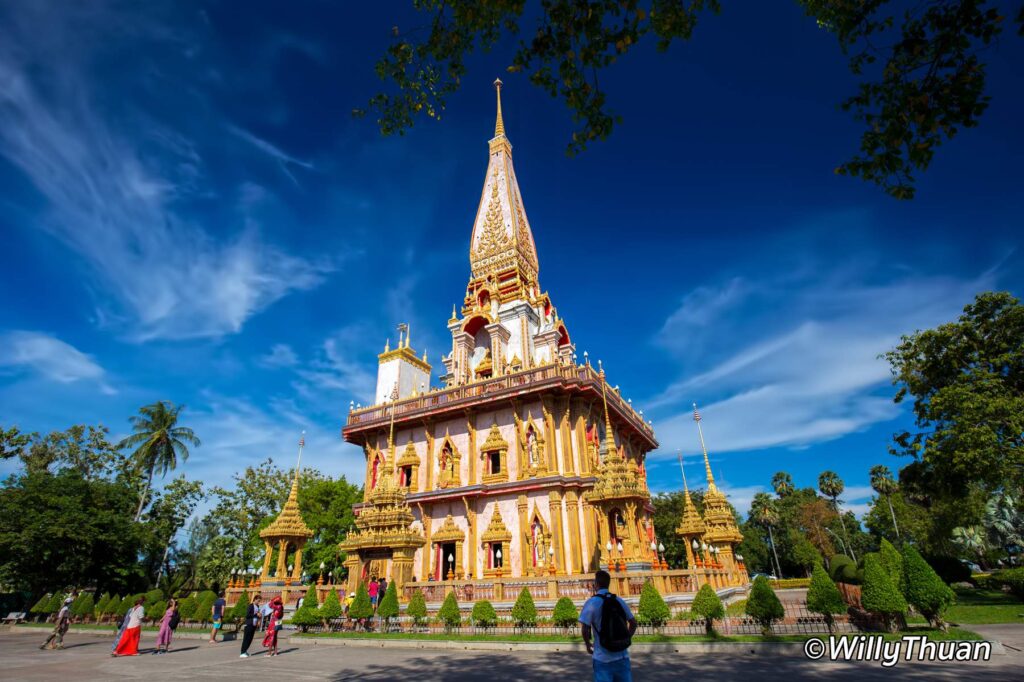 Once in a while, you will hear loud explosions of firecrackers coming from a brick oven-like construction. That's another way to make merit, supposedly to show your gratitude when one of your wishes came true. One person stands by to lit the firecrackers for you, the big ones are pretty scary but make fun photos (see video). On the side of the temple, a dozen small shops are selling all kinds of souvenirs and tourist stuff. Strangely, the shops selling religious items are outside the temple ground, next to the gate, go figure.
Then there are the occasional large funfairs, displaying lots of food, plenty of favourite Thai games and big stage performances. It's always fun, noisy, entertaining and will undoubtedly give you interesting of opportunities to take some fun photos and insight on Thai life.
---
Things to Know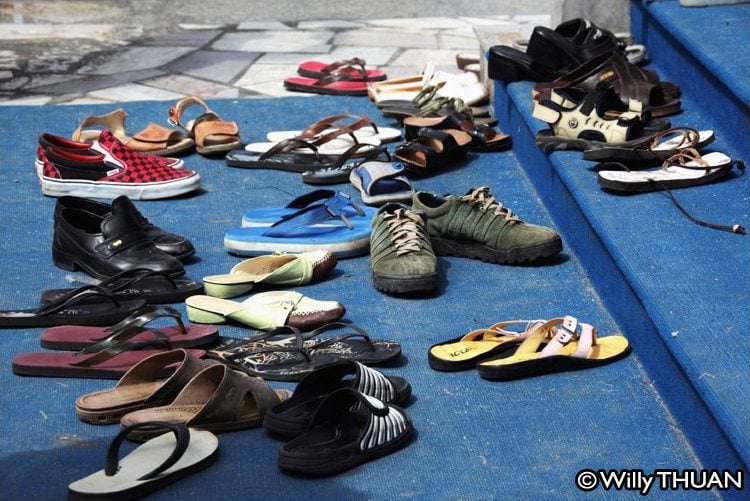 There is no entry fee
Dress respectfully
Take off your shoes, remove caps or hats when entering a building
---
How to Get There?
From Phuket town, take 'Chaofah Road' in the direction of Chalong and Rawai. There are two Chaofah Roads: the one you need is passing in front of Central Festival and all the shopping malls. It's about 10 km from Central on the left, well indicated.
---
Useful Tips: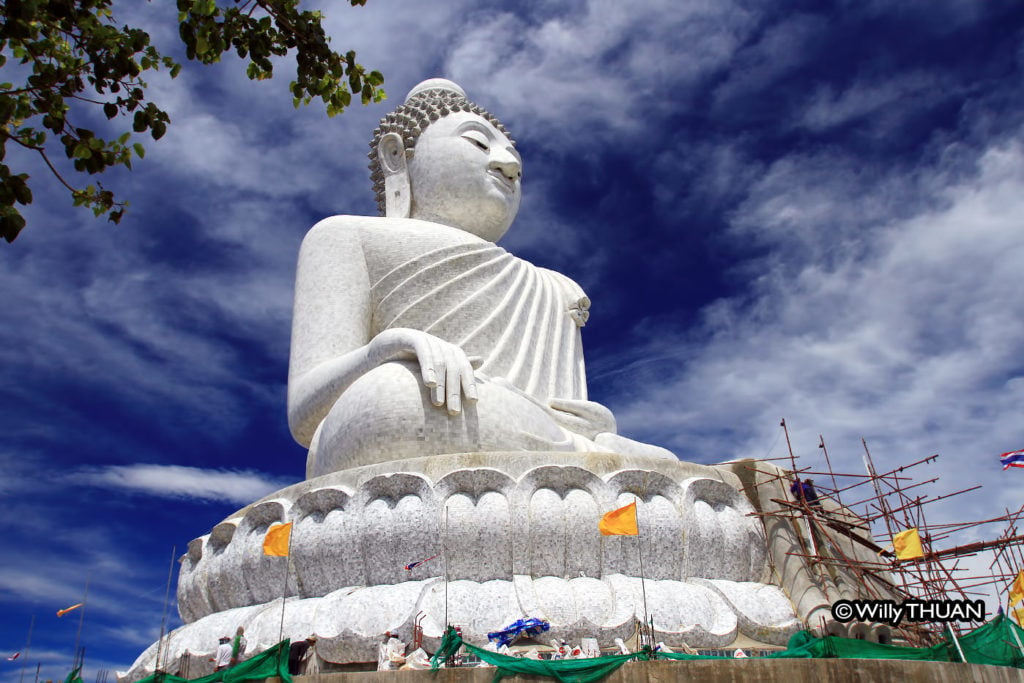 Wat Chalong is a nice stop on the way to the nearest interesting point: the Big Buddha. If you like temples, see also the reclining Buddha of Wat Sri Sunthon.
Wat Chalong Information
Location: 70/6 Chao Fah Tawan Tok Road, Chalong, Phuket 83130
Open: 7 am – 5 pm (but you can walk around the temple grounds anytime)
Phone: 076 381 226
Dress Code: Wear at least a T-shirt with sleeves, skirts or short pants that reach knee level
Price: Free
Credited : phuket101.net