What to Do at Phuket Big Buddha?
The Phuket Big Buddha is a 45-metre-tall white marble statue visible from anywhere in the southern part of Phuket. This impressive landmark is probably at the top of everyone's 'Must-Do in Phuket', and it is indeed a jaw-dropping site, and the panoramic views from up there are breathtaking. Koh Samui always had a very popular Giant Buddha, and it seems that Phuket wanted to have a bigger one.
Phuket Big Buddha Video
---
When was Phuket Big Buddha built?
Phuket Big Buddha started in 2002 as the foundation stone was laid by General Phijit Kulawanich, Privy Councilor, on May 22, 2002. The official name is 'Phraphutthamingmongkhol-akenagakhiri Buddha' that translates as "Happiness on top of Nakerd Mountain".
The statue is built with people's donations and is still under construction. If you want to help finish the construction, you can sponsor a white marble piece for 300 or 1,000 baht, depending on the tile's size. At this time, the Buddha is complete, but the sweeping staircase is still under construction.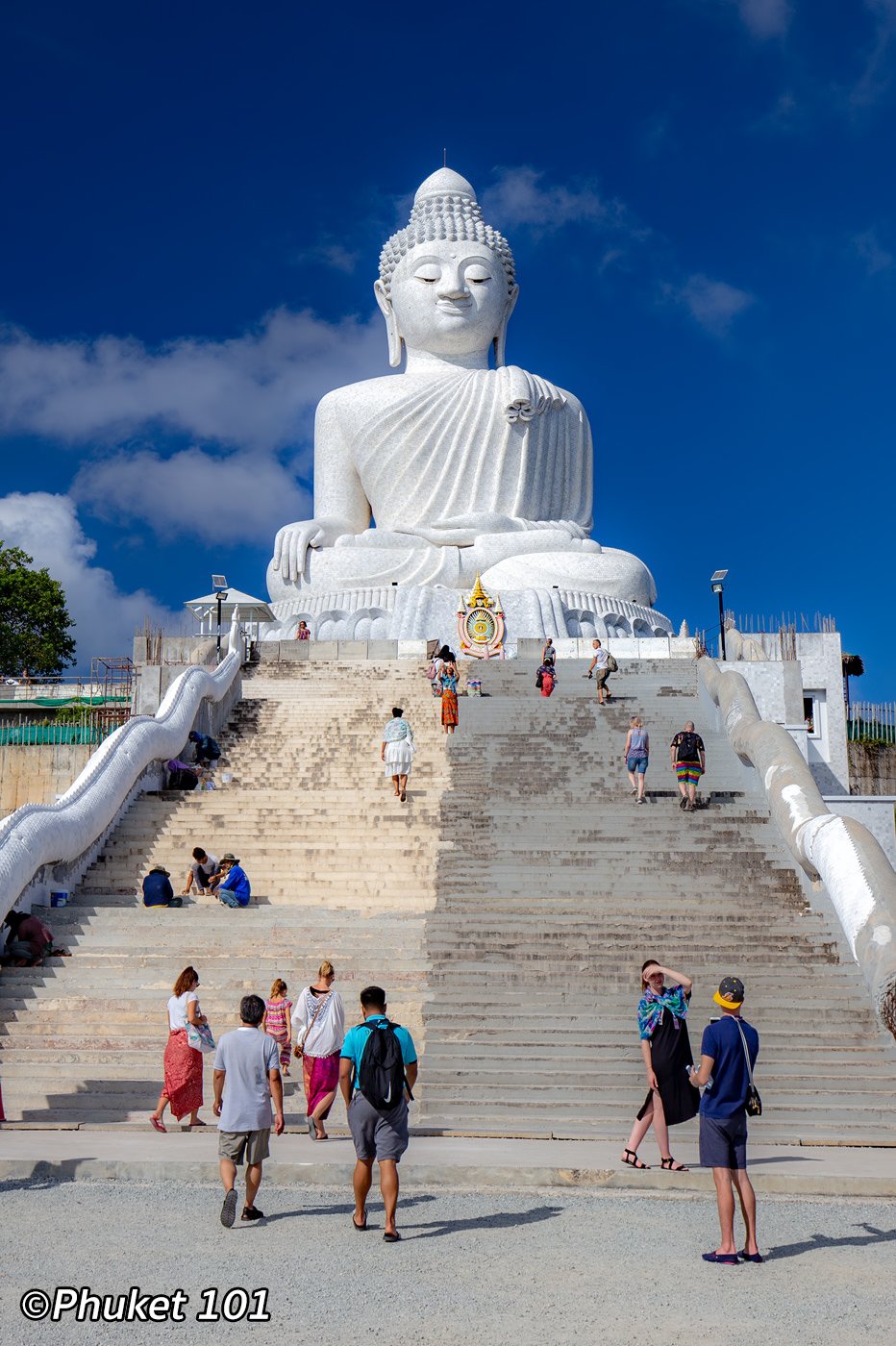 ---
Visiting Phuket Big Buddha
The road to the statue is well paved and easy to ride despite many curves; however, drive slowly and carefully on the way down. When reaching the top of the hill, you will find ample and well-organised parking. As you approach the site, a security officer will check your attire, and if your shorts or skirts are too short, you will be required to wear a sarong, provided for free.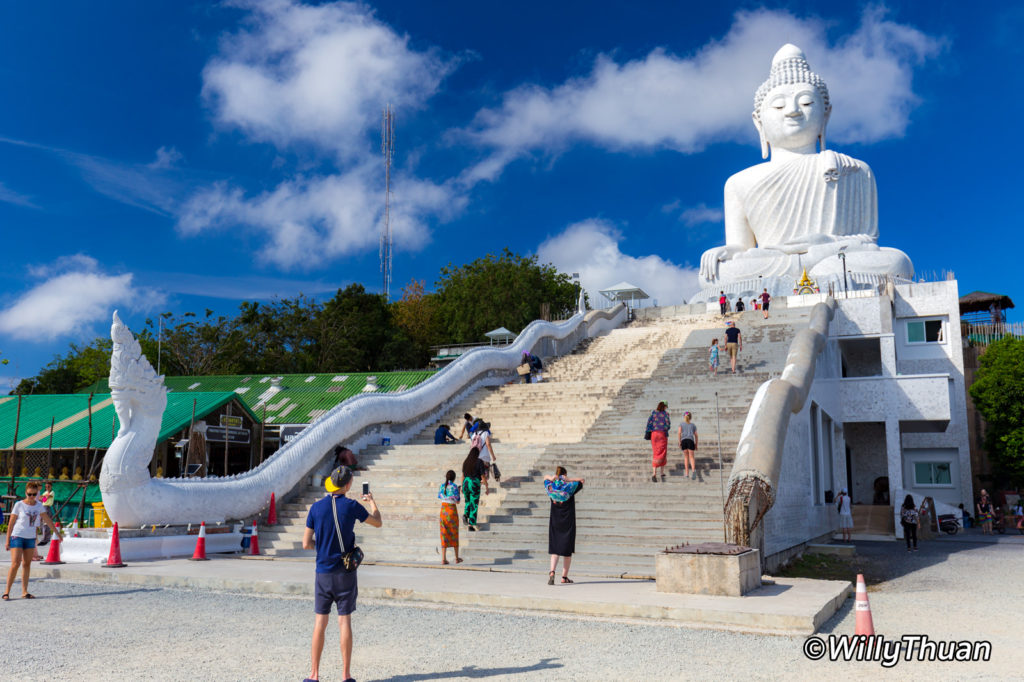 A recently added sweeping staircase now leads to the Buddha monument. Note that the stairs are only to climb up; you are not allowed to walk them down. There is a separate way down on the hillside, and a security guard sitting there all day makes sure people respect this rule. Don't worry if you forgot to take your photos and selfies the first time, as it's easy to go back on the way out.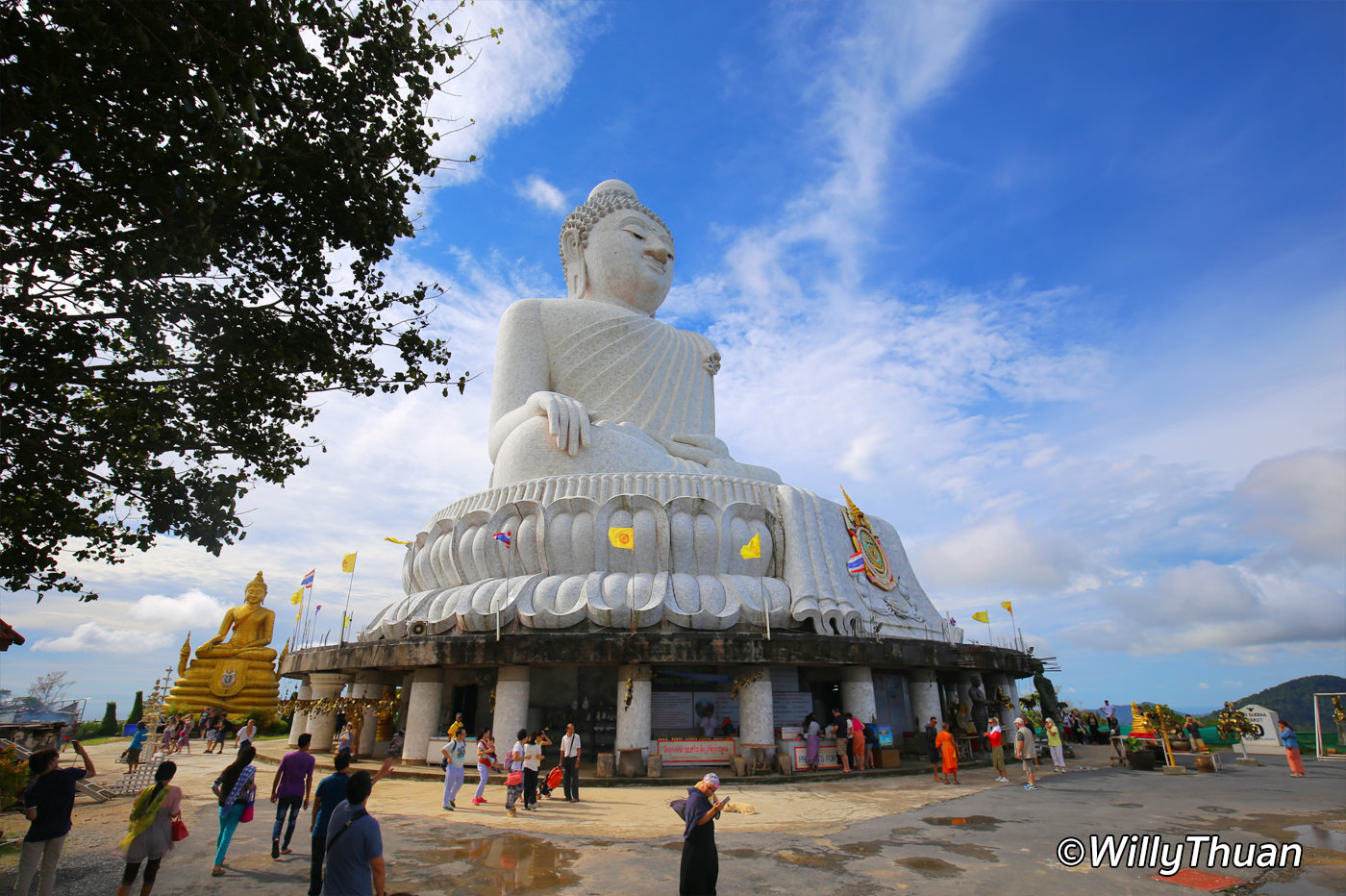 If you wonder or worry, There are 94 steps to reach the Big Buddha and climbing them is relatively easy (thank you to our reader Joni for counting them for us!)
---
The panoramic views
From up there, you will get some pretty stunning bird view on three large bays. Before that day, I always thought they were far from each other. Directly in front of the Big Buddha in Chalong Bay, and when the sky is clear, you will even see Phang Nga Bay! Few steps to the west, another short staircase will take you to a terrace from which you'll get a beautiful view of Kata Bay and Kata Noi Bay. You might even recognise Promthep Cape and even Nai Harn Windmill. The best spot to see the third bay is to stop at the restaurant on the way up. From up there, you'll get from there a magnificent panorama of Karon Beach.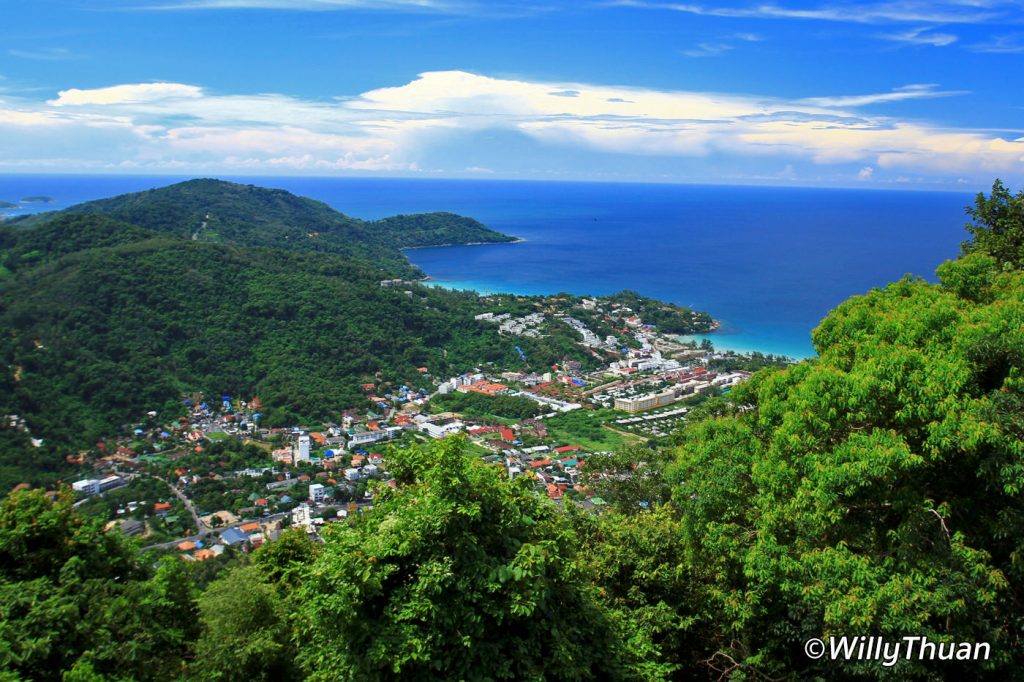 The Big Buddha of Phuket is a site to visit. It has become a bit of a tourist attraction, but it is indeed imposing and worth a photo. If you prefer more modest but beautiful temples, the sitting Buddha of Wat Kao Rang or the reclining Buddha of Wat Sri Sunthorn is more humble.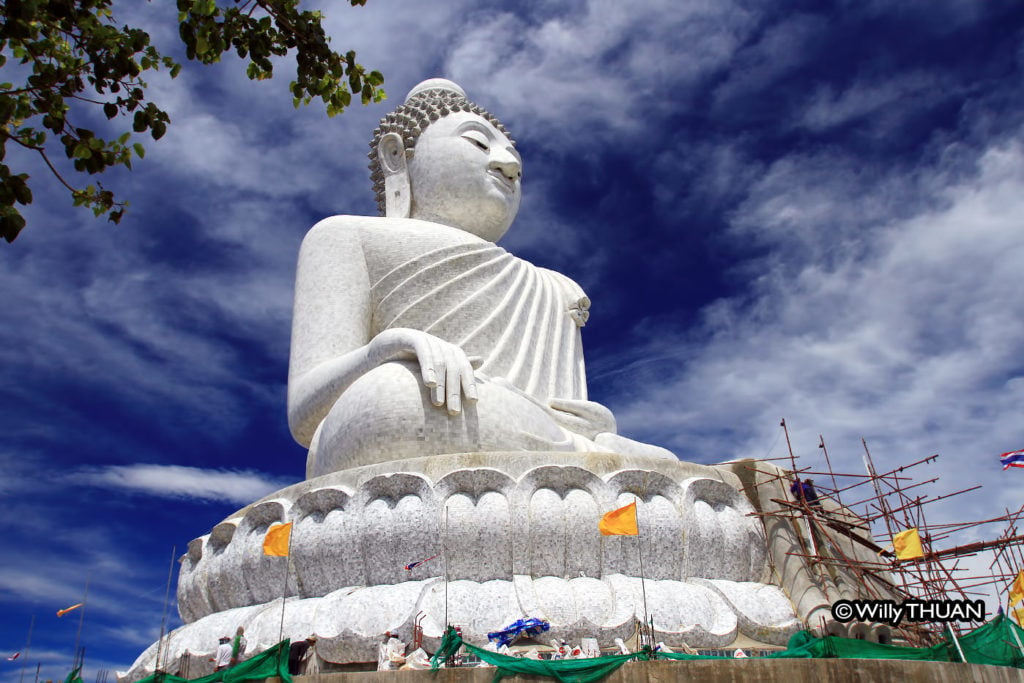 On the way down, you will walk through a temple where monks sit all day to give blessings and hold occasional ceremonies, mostly for local visitors. Here too, people donate money for the temple and buy amulets. This place also serves as a museum narrating the history of the Big Buddha construction. You can purchase snacks and drinks all along the way, but of course, no alcohol is allowed.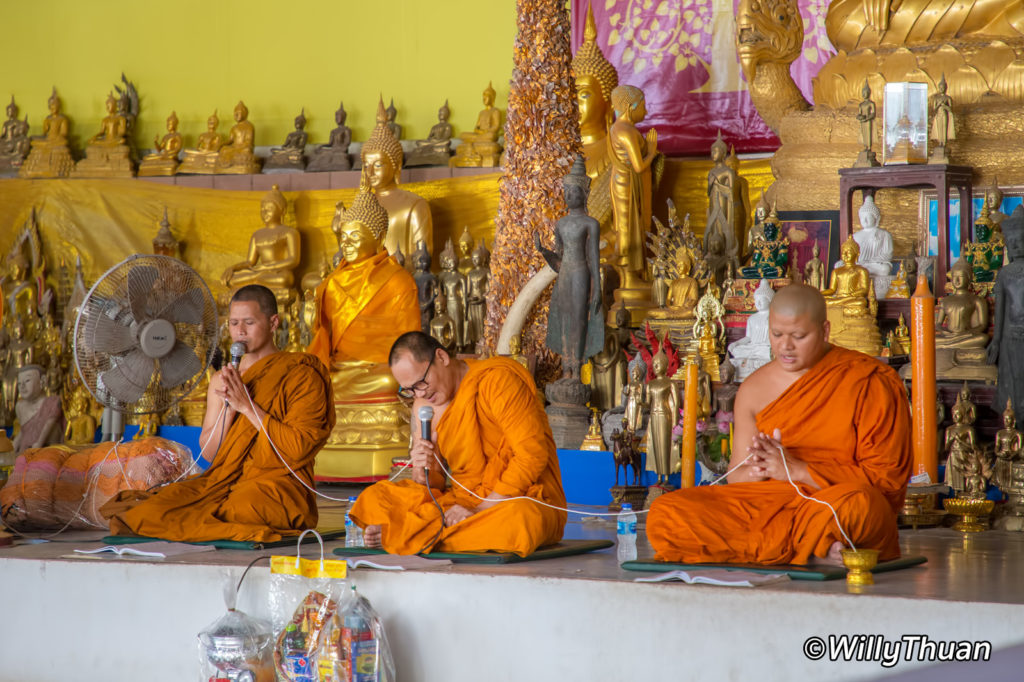 ---
Is there a dress code at Phuket Big Buddha?
There is no dress code to visit Phuket Big Buddha. However, the Giant Buddha of Phuket is a tourist attraction, but it is also an active temple with monks, so remember to dress appropriately and try not to speak too loudly, as we often hear. At the entrance of the path leading to the temple, security will check your attire. Sleeveless shirts, too short pants or skirt above the knee are not authorised, so if you wear short skirts or shorts, they will hand you a free sarong and ask you to wear it.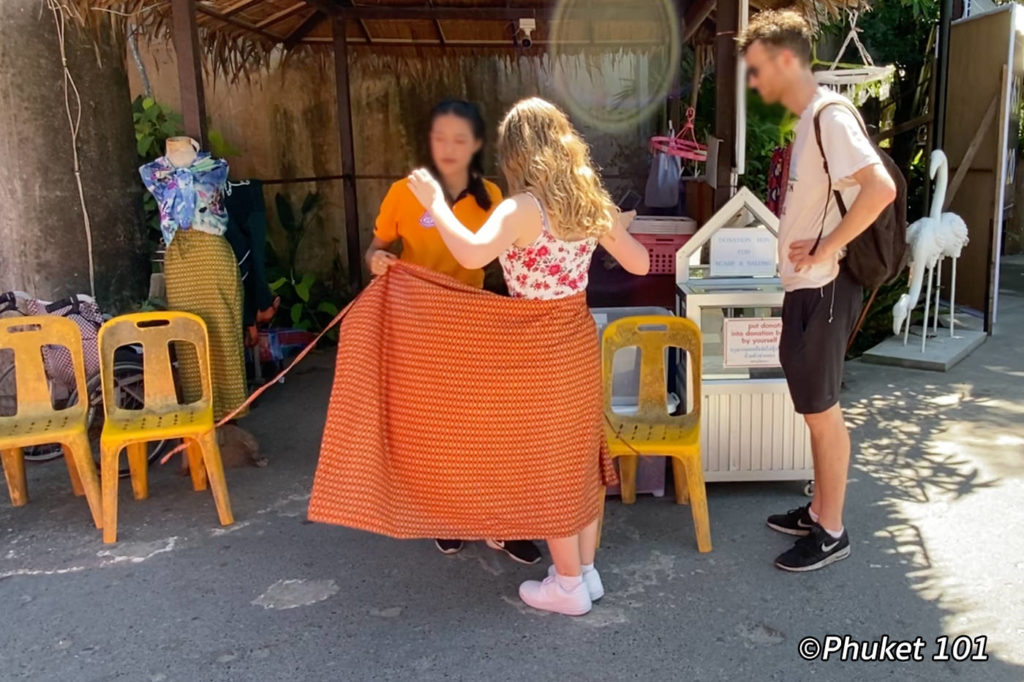 ---
Nak Kerd Seaview Panoramic Restaurant
On the way up or down, don't miss a chance to stop at one of the many panoramic restaurants for snacks or drinks. Enjoy a Thai lunch at Nak Kerd Seaview Cafe with a beautiful view of Karon Beach, or even just a coffee, a soft drink or a beer; the birdview is worth the photo.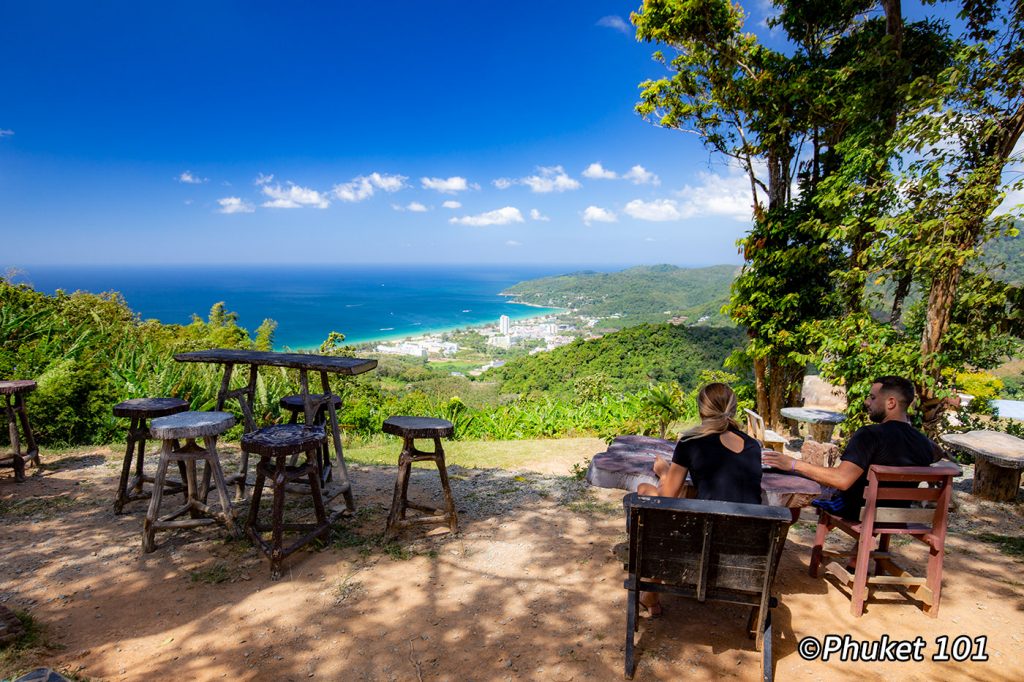 Big Buddha Phuket Info
Location: Chalong
Address: Soi Yot Sane 1, Chaofa West Rd, Nakkerd hill near Chalong
Open: 6 am – 7.30 pm
Phone: 083 556 2242
Dress Code: No short skirts or short pants, no sleeveless Tee shirts
Price: Free
Built: 2002
Official name: Phra Phutta Ming Mongkol Akenakiri
Height: 45m
---
How to get to Phuket Big Buddha?
The Big Buddha is at the top of Nakkerd Hill near Chalong, in the south of Phuket Island. . follow the many signs on the way to Chalong Circle. It would be hard to miss, and it is not far from Wat Chalong. A small winding road off Chaofa West Road leads to the site itself is now in good condition but can be tricky on the way down; drive carefully.
Distance from Patong to the Big Buddha: 23 km
From Phuket International Airport to Big Buddha: 45 km
From Phuket Town to the Big Buddha: 16 km
From Bangtao to Phuket Big Buddha: 55 km
From Wat Chalong to the Big Buddha: 8 km
---
Big Buddha Phuket Map
Open this map on your phone ▷ https://goo.gl/maps/QfuQU3YyHwX2JrTR6.
---
Can you walk to the Big Buddha of Phuket?
You can walk to the big Buddha through a relatively easy hillside path that starts opposite Baan Karon Resort on Patak Road, in Karon Beach. The climb is only 2.5 kilometres on Google map and 1 Kilometre if you believe the boulder on the photo below. The climb is not too steep, but it's not recommended to climb to the Big Buddha site if you have a heart condition or lack of physical exercise. The dirt road is now wide and well cleaned up, but some parts are still narrow and relatively steep.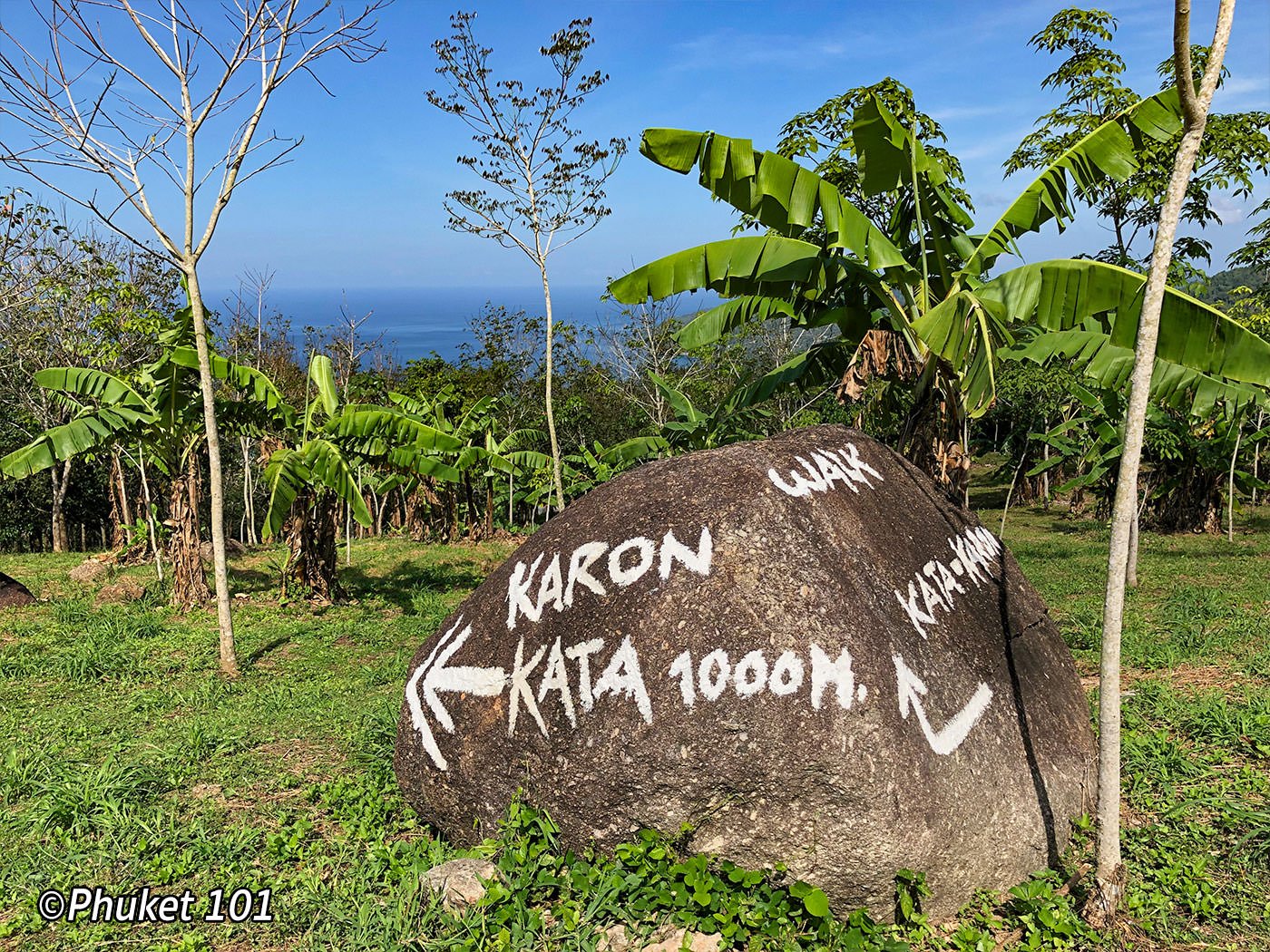 You could also walk up the main road, but 5.7 kilometres from Chaofah Road would be much longer. On the bright side, you can stop at many panoramic bars and restaurants, but doing it with a motorbike is definitely the most comfortable way to do it, allowing you to stop anytime you feel like it.
---
FAQs about the Big Buddha
Q. How tall is the Big Buddha oh Phuket?

a. The Big Buddha is 45-meter-tall, on top of a high hill overlooking Chalong Bay.

Q. Is there a dress code for Phuket Big Buddha?

a. Yes there is a dress code: do not wear sleeveless shirts, shorts or skirts above the knee. If you do, the security guard will hand you a free sarong and ask you to wear it.

Q. How much does it cost to visit the Big Buddha?

a. Visiting the Big Buddha is free, but making a small donation is a nice gesture.

Q. How can I get up there?

a. The Big Buddha is frequently part of day trip tours, but Tuk Tuks can take you up there. Self-driving is also an easy option.