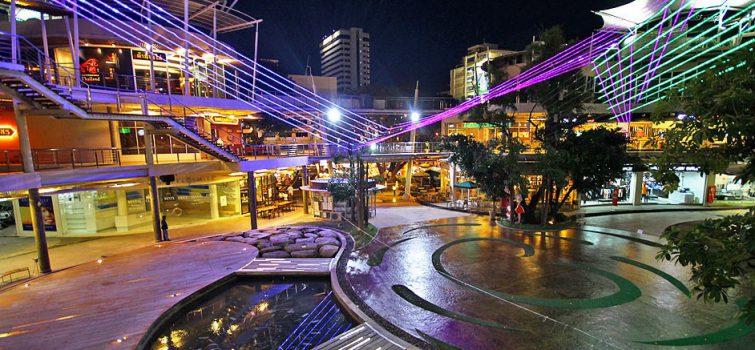 Where to party and what to do in Patong at Night?
Patong Nightlife in Phuket is famous the world around for being colorful and carefree. It has evolved a lot to reach every traveler type and is not as rowdy as Pattaya or Bangkok. During the high season (November to May), the nightlife is vibrant in most beach towns. Patong Beach is lively and colorful until 2 am (officially), but often past 4 am.
Nightlife in Patong features great nightclubs hosting international DJs, a few rooftop bars, more live bands than you need, and ladyboy shows that defy your imagination. You might even be tempted to have a look inside those notorious go-go bars at least once.
Rooftop Bars
---
Where to Party in Patong?
Past sunset, Patong Beach turns itself into a gigantic party town. And since not everyone enjoys the same type of party, there are many ways to enjoy the night, from rooftop bars to international nightclubs. Below are some of the best-known places, but walk around, and you will find an incredible array of bars and clubs.
Bangla Walking Street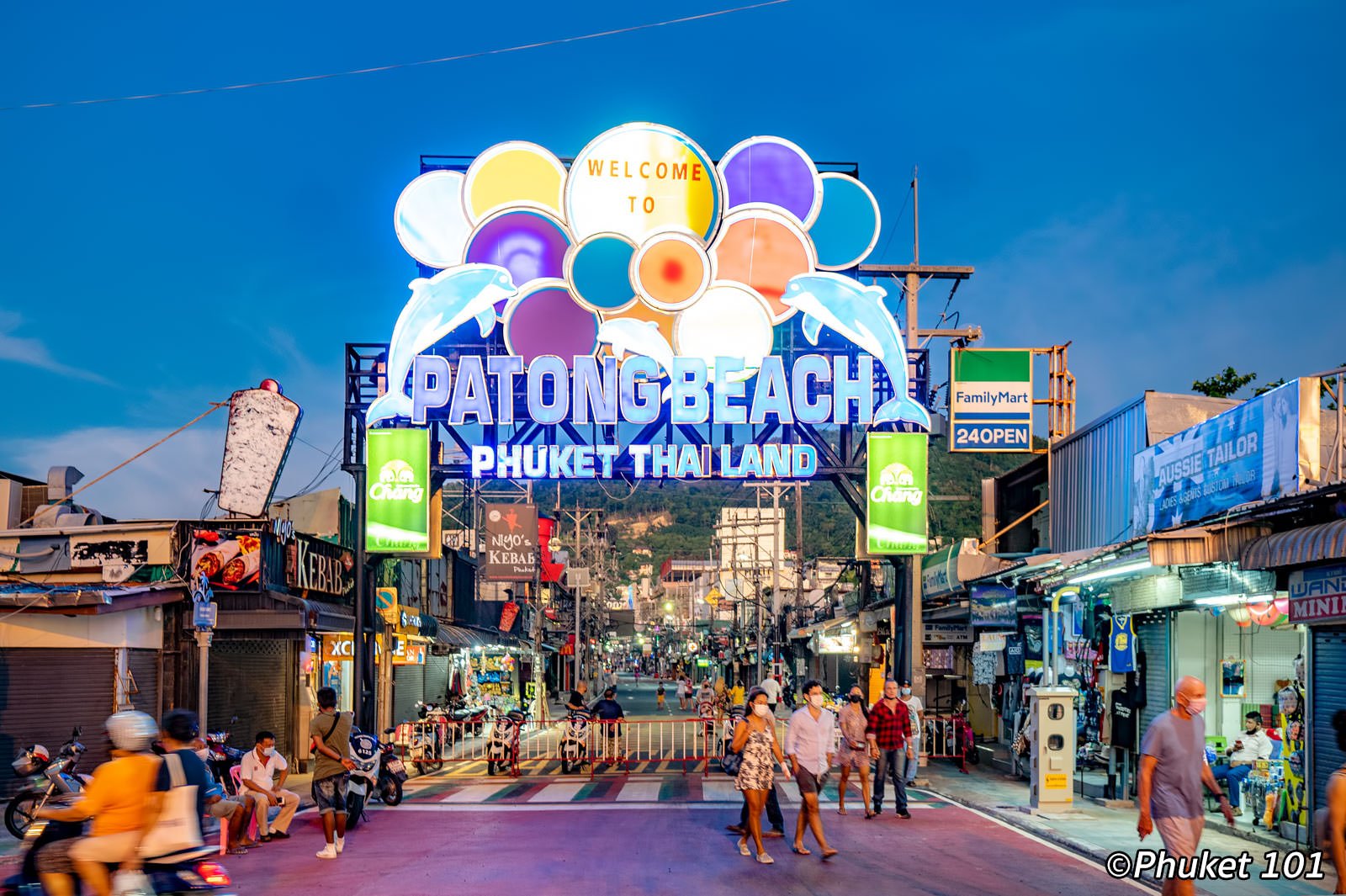 Bangla Walking Street, also called Soi Bangla or Bangla Road is the heart of all Phuket Nightlife, and the battle for night supremacy is raging between Soi Seadragon and the new Tiger complex. Over the years, the centre of interest has been moving up and down Bangla road depending on seasons and popularity, but the ever-changing face of Patong nightlife is worth a look. Of course, wherever you go in Bangla, friendly ladies will call you with a big smile and encourage you to have a drink and play a few silly bar games; everyone is welcome.
---
---
---
Shows and Live Bands
Live bands are everywhere in Patong, and thankfully, the sound and skills have improved a lot in recent years. It's a fierce competition, but not everyone can afford a great band, and some venues would do better concentrating on their food. The best live bars are, without a doubt, New York Music Bar and the famous Hard Rock Cafe.
---
Hooters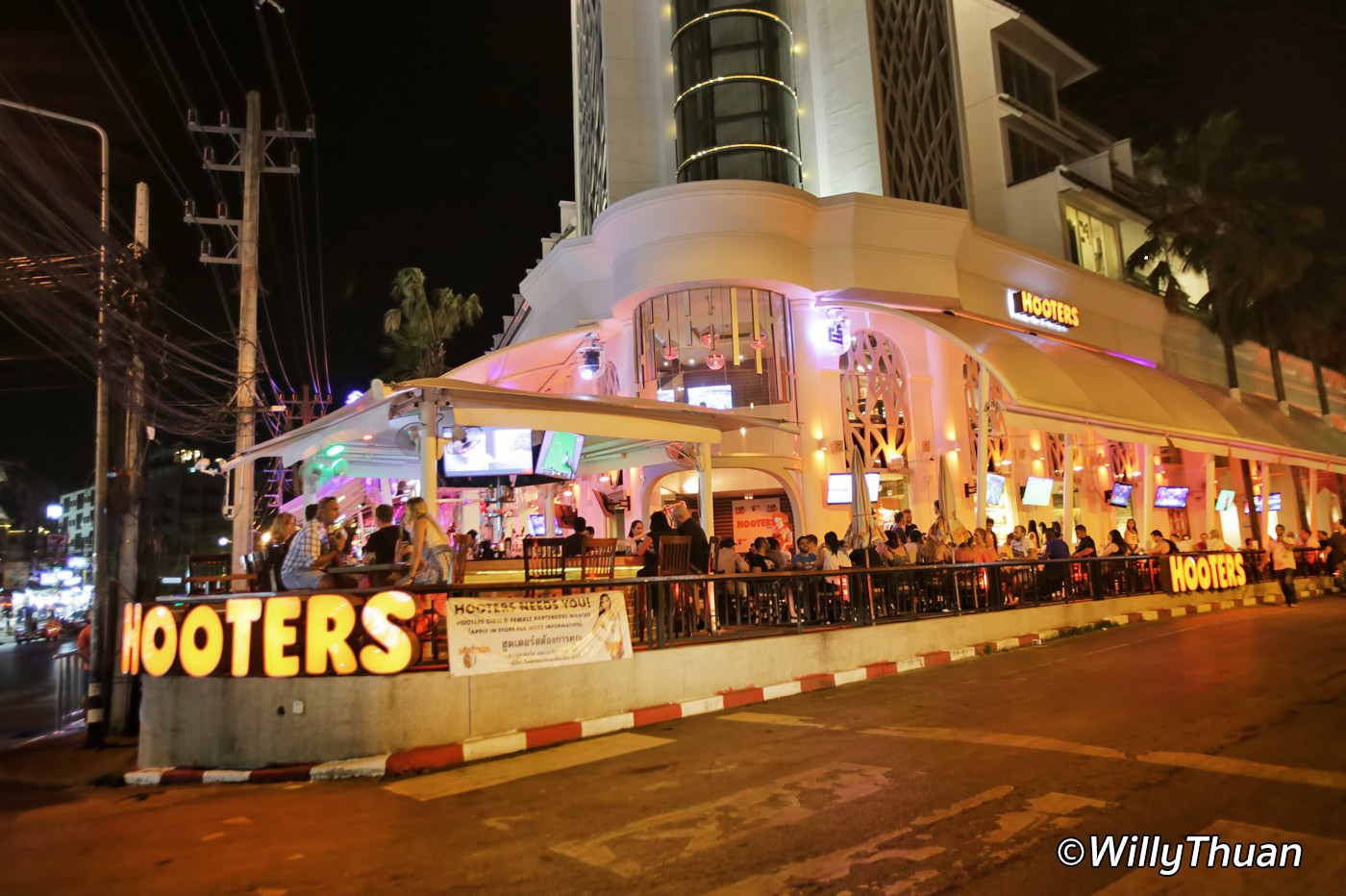 ---
Shopping and Night Markets
---
Go-Go Bars of Phuket
The concept of Go-Go Bars in Soi Bangla doesn't vary much between places. It always rotates around a few standard features. So what happens in there? At the centre of the room is an elevated stage with stainless poles, surrounded by stools. Sofas and small tables are lined up around the room, sometimes on two levels, and they play loud music with flashing colourful lights.
---
Suzy Wong's A Go Go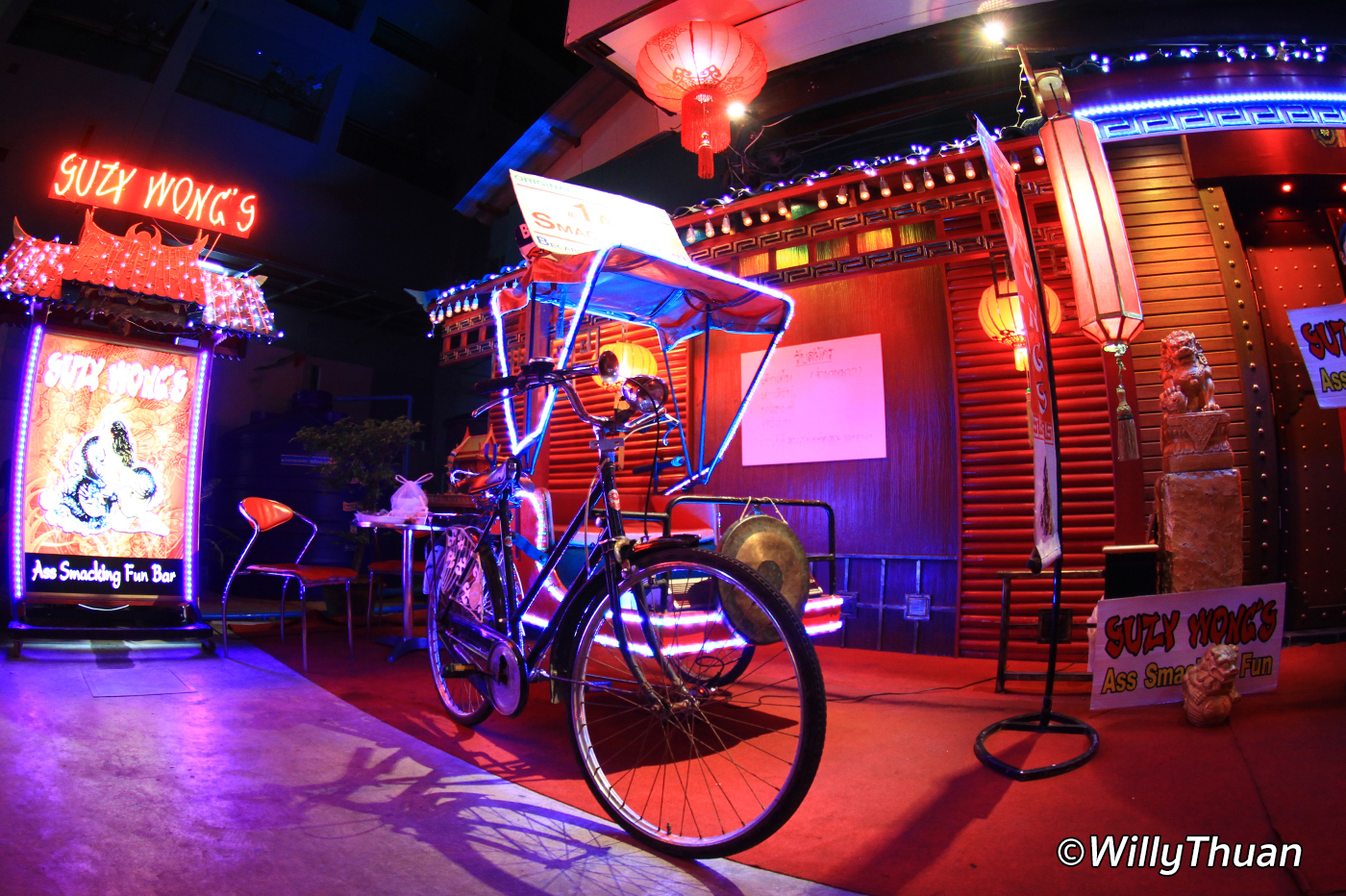 Suzy Wong's is already an icon of Soi Bangla nightlife, and you can't go to Patong without visiting them. They gave a great deal of effort to the new bar facade with its bright red Chinese decoration and massive door. Despite being the last bar in the Soi Seadragon, you won't walk by without being intrigued. But go-go bars are not only about beautiful facades, so you'll ask what makes this one any different from any other go-go bar?
Harem Bar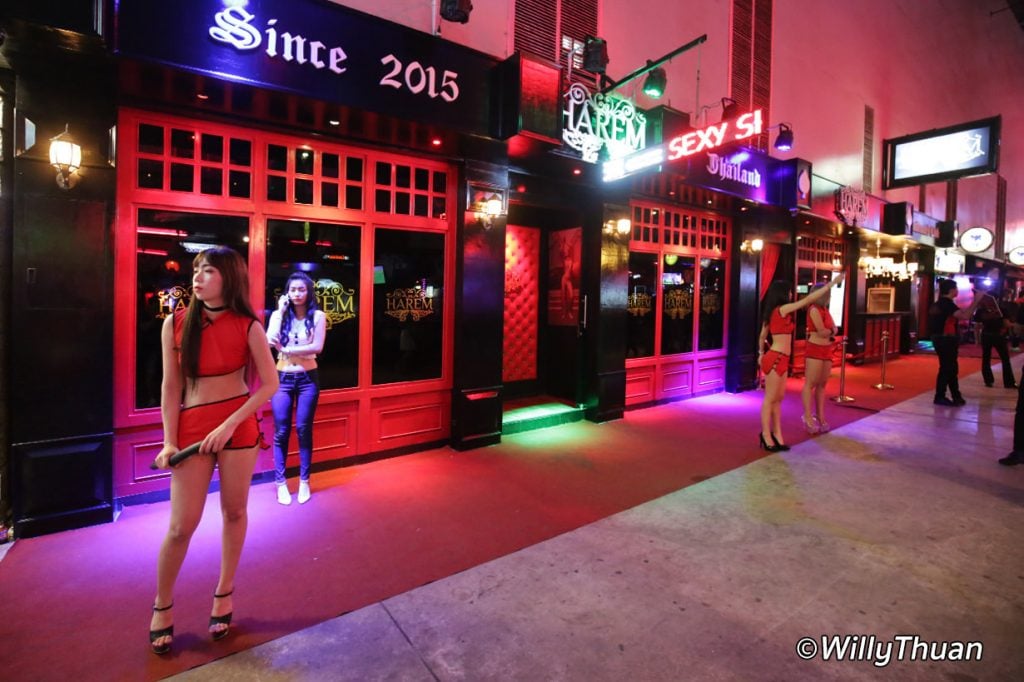 Harem Lounge is the most luxurious bar in Phuket, with plush red velvet sofas and curtains all around, two main stages with four smaller platforms on each side. The place feels cosy and intimate, and the staffs are beautiful. Just like this wasn't enough to make you want to visit, Harem is also the most extensive bar since it occupies the space that used to be Playschool and Candy Club.
Other Nightlife Stories
---
Paradise Complex Gay Street
For almost twenty years, the Phuket Gay party zone's heart has been beating in the Paradise complex in Patong Beach. I don't know if the fancy name had any influence on the choice of location, but it's effortless to find, right at the foot of the 'Paradise Hotel', a 24-floor tower standing in the centre of Patong like a lighthouse, well you get the picture. There used to be an impressive gay festival, but it stopped in 2017.
---
10 Tips to Spot a Ladyboy in Phuket
Did you know that in Bangla Walking Street, those tall, slim, pretty and sexy ladies dancing with colourful outfits and feathers are what is locally called a ladyboy? A ladyboy is a transvestite that is considered here a woman. They look very feminine and get a lot of attention. On Bangla road where they perform their little act of "look at me! I'm more feminine than your wife". Just keep in mind that while they encourage you to take their photos, payment is always requested once the photo is taken.
---
10 Fun Ways to PARTY in Patong
Where to Party in Phuket? Everyone expects something different from his holiday, but everyone wants to see the best of it in a minimum amount of time and (almost) everyone wants to PARTY! Here are 10 fun ways to party wild in Phuket, don't take it too seriously. This is not a Top 10 that would suit everyone, just 10 Fun Party Tips we would recommend to my visiting friends. The list could go on and on, but these are a good start.
---
Party and Hangover Drinks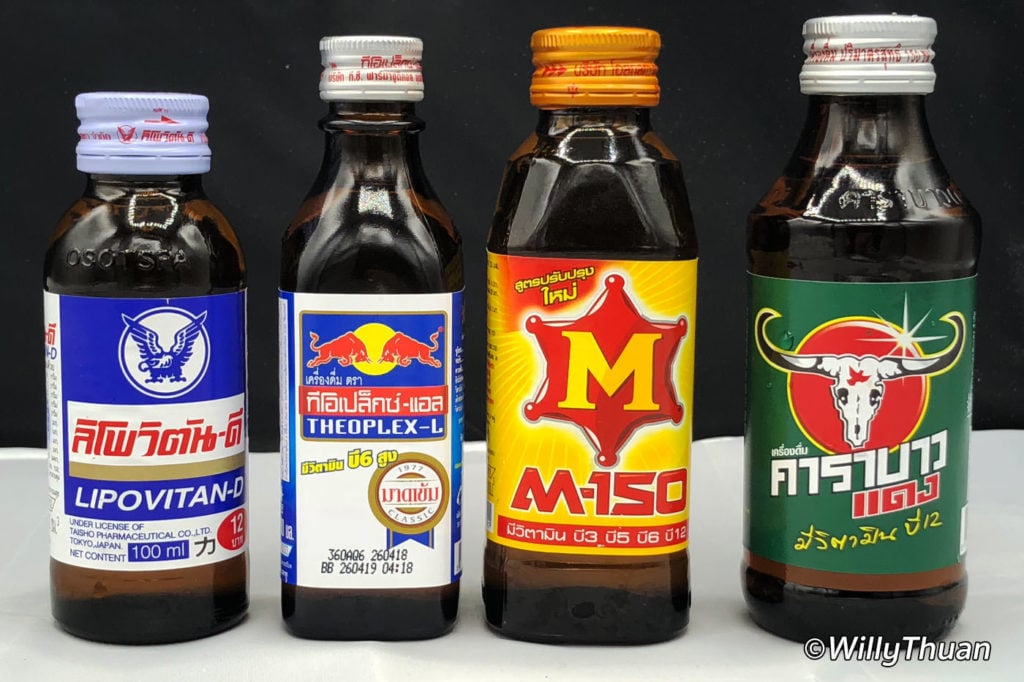 Energy drinks are part of the daily landscape of Thailand. Convenience stores always dedicate several fridge shelves to those tiny bottles. Do they work? That might depend on which brand, but mostly that will rely on you. If you are an Italian espresso drinker like us, that might give you a mild boost; for some, it's an all night long kerosene. If you don't know what these tiny bottles are, you might want to memorise some of the names! 'Energy Drinks' are used as mixers to help you party through the whole night, while 'Hangover Drinks' make the next day less miserable. Better safe than sorry!